Lodge Liberton No. 1201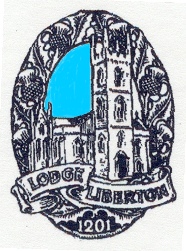 60 Mount Vernon Road, Edinburgh.
Midlothian. EH16 6JQ
---
Master:
Bro.
Thomas O'Neill
Secretary:
Bro.
David T. Anderson P.M.
Tel: (44) 0131 621 4599
Meetings: 2nd and 4th Thursday - September to April, except 2nd Thursday in September
and 4th Thursday in December and April, at 7.15pm.
---
Constituted 6th November 1919
Brief History of Lodge Liberton
The Lodge was first formed within a year of the end of the Great War (1914-18), from Brethren who had become friendly whilst serving together in the local Volunteer Defence Corps. When the war ended, and the platoon faced disbandment, those who were Freemasons realised that the formation of a local Lodge would serve to continue their comradeship.

From 1919 until 1965, Lodge Liberton met in the Anderson Hall, belonging to Liberton Kirk (whose outline forms the Lodge crest) The Lodge then acquired a small hall in Mount Vernon Road Edinburgh, some 200 yards away, and, after extending the hall, has met there to this day.

Although many of the Lodge members are still drawn from the former villages of the Liberton and Gilmerton area, just as those villages are now part of the City of Edinburgh, so the Lodge has a much wider outlook and welcomes visitors from far and wide.
Unusual Visitors

Lodge Liberton played host to some unusual visitors in October 2011 when a party of residents from Sir James McKay House were entertained to a lunch, a few drinks and a wee bit harmony by the Brethren of the Lodge. This seemingly is a regular occurrence (visiting local Lodges) but is the first time they have visited in the Province and no doubt Bro. Ian Millar who now works part time at the House had something to do with this.

They were given a warm welcome by the RWM Bro. Mike Munro, but all through his introduction one old lady was heard to say "What's he saying?'' and eventually in exasperation Bro. Mike said "Excuse me madam, but do you know who I am?'' To which the old lady replied, "No, but I'm sure if you ask Matron she will be able to tell you!!''

A great day was had by all the residents and well done to the Brethren of No. 1201 for giving up their time, cooking and serving the meal and keeping the residents entertained for a few hours.

It is hoped that this may become a regular feature in our Province and other Lodges will make themselves available as hosts in the future.

Should you require further information please contact Bro. David T. Anderson P.M. at:

Email